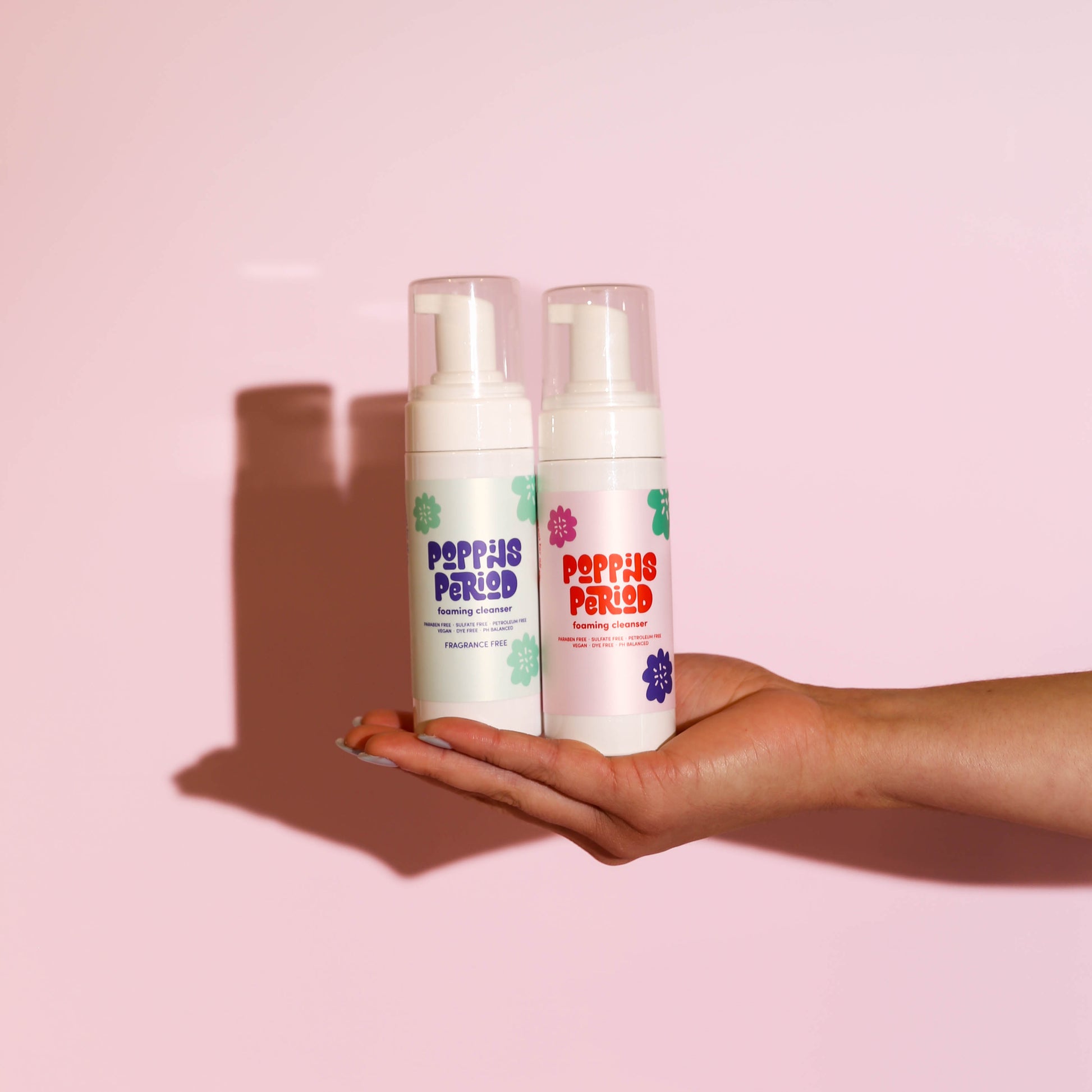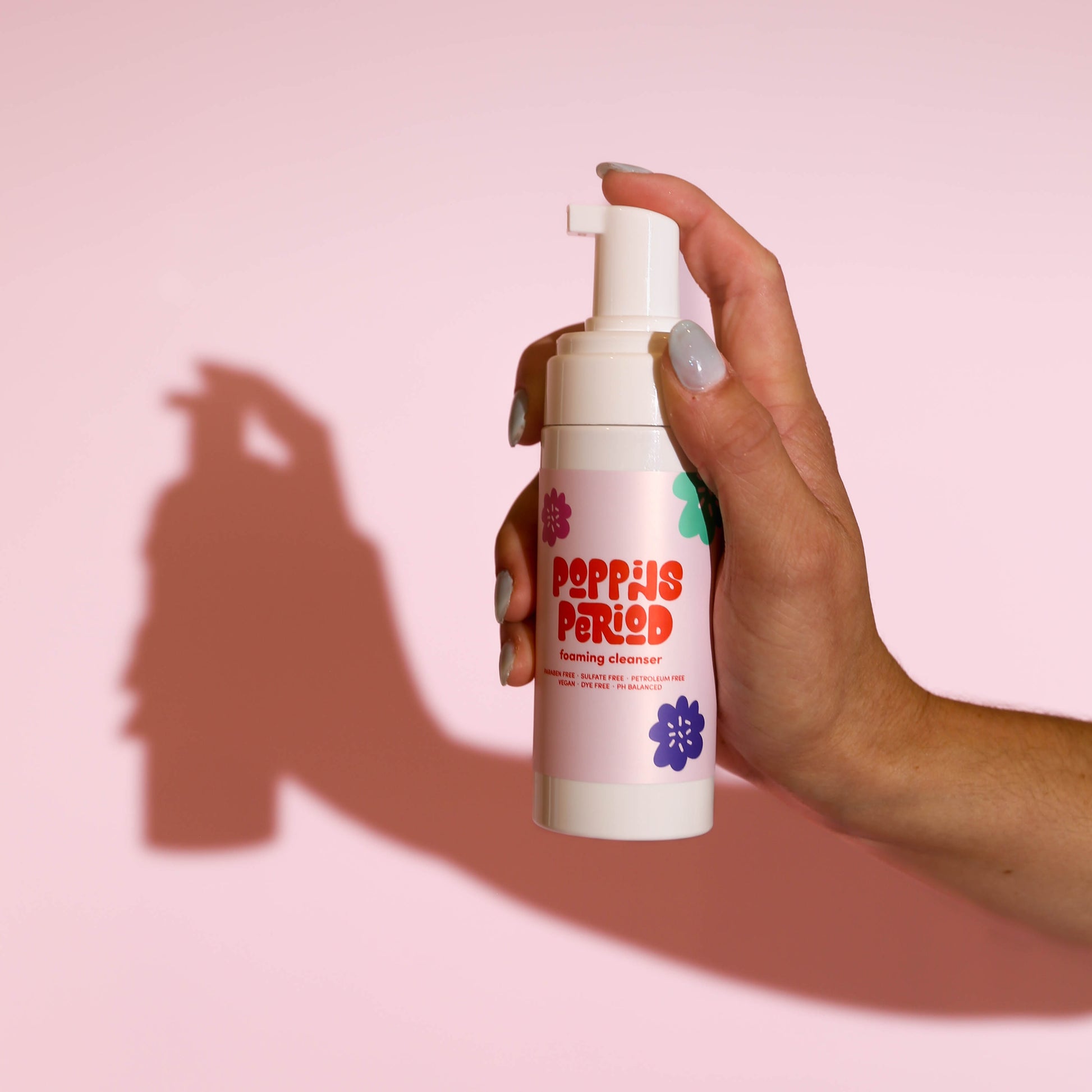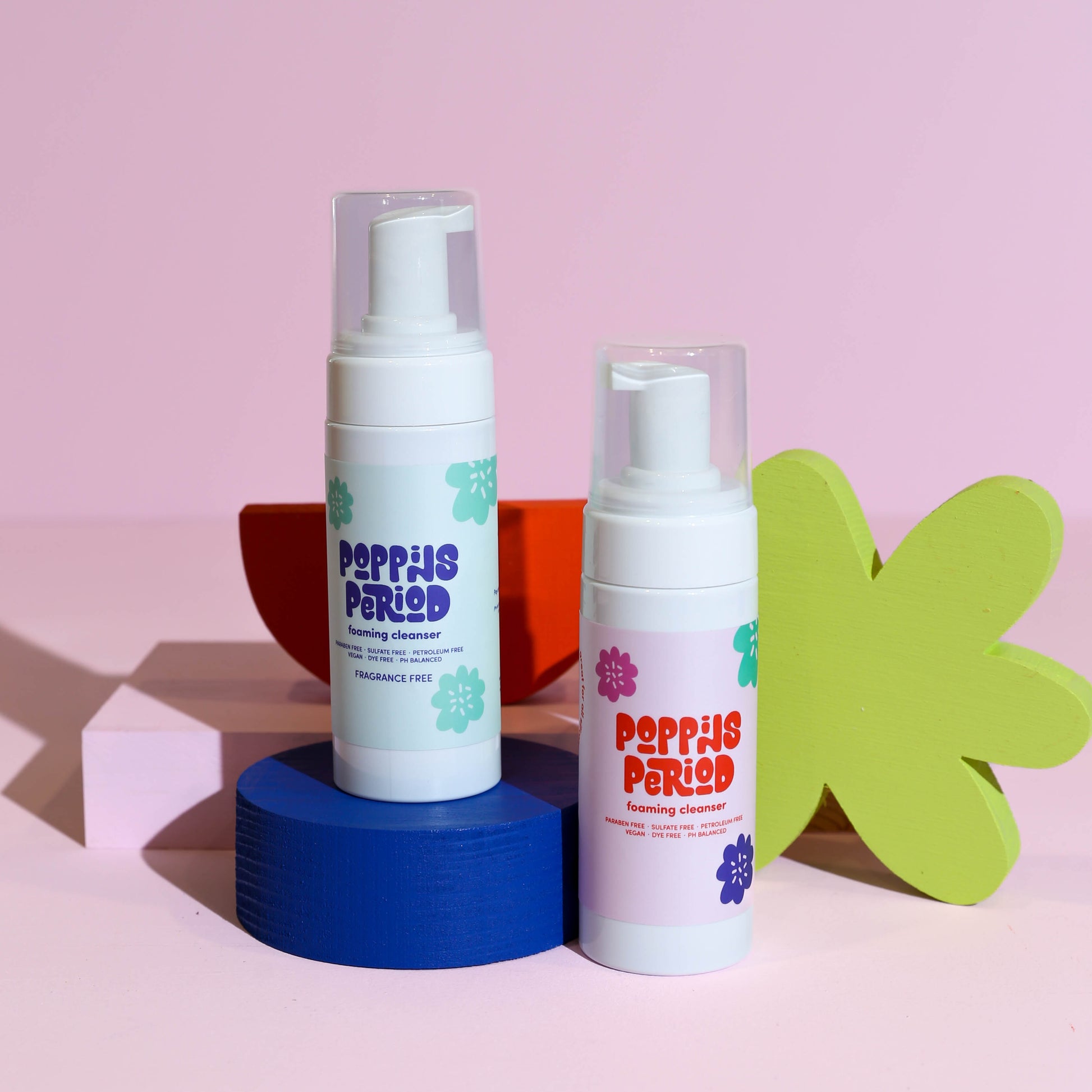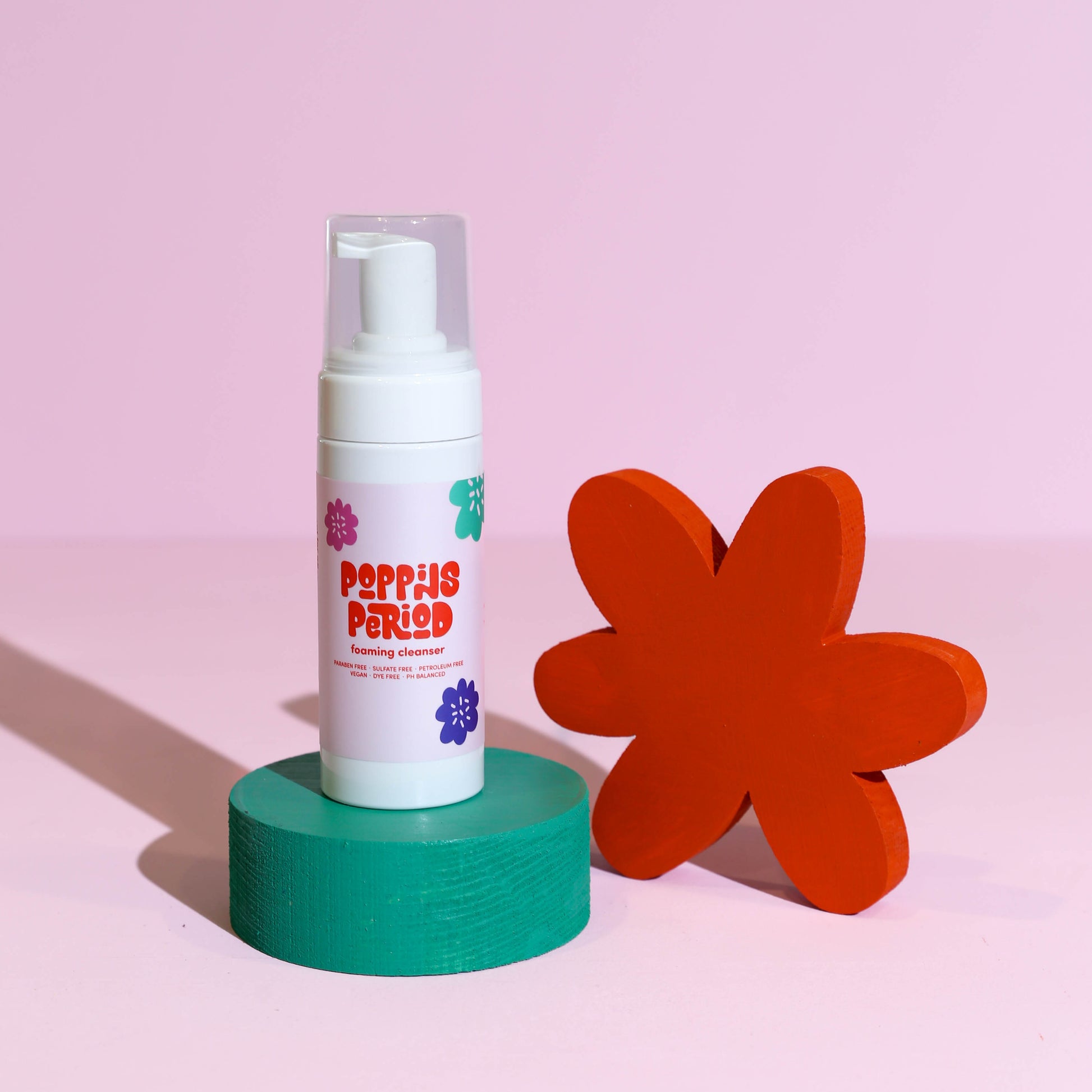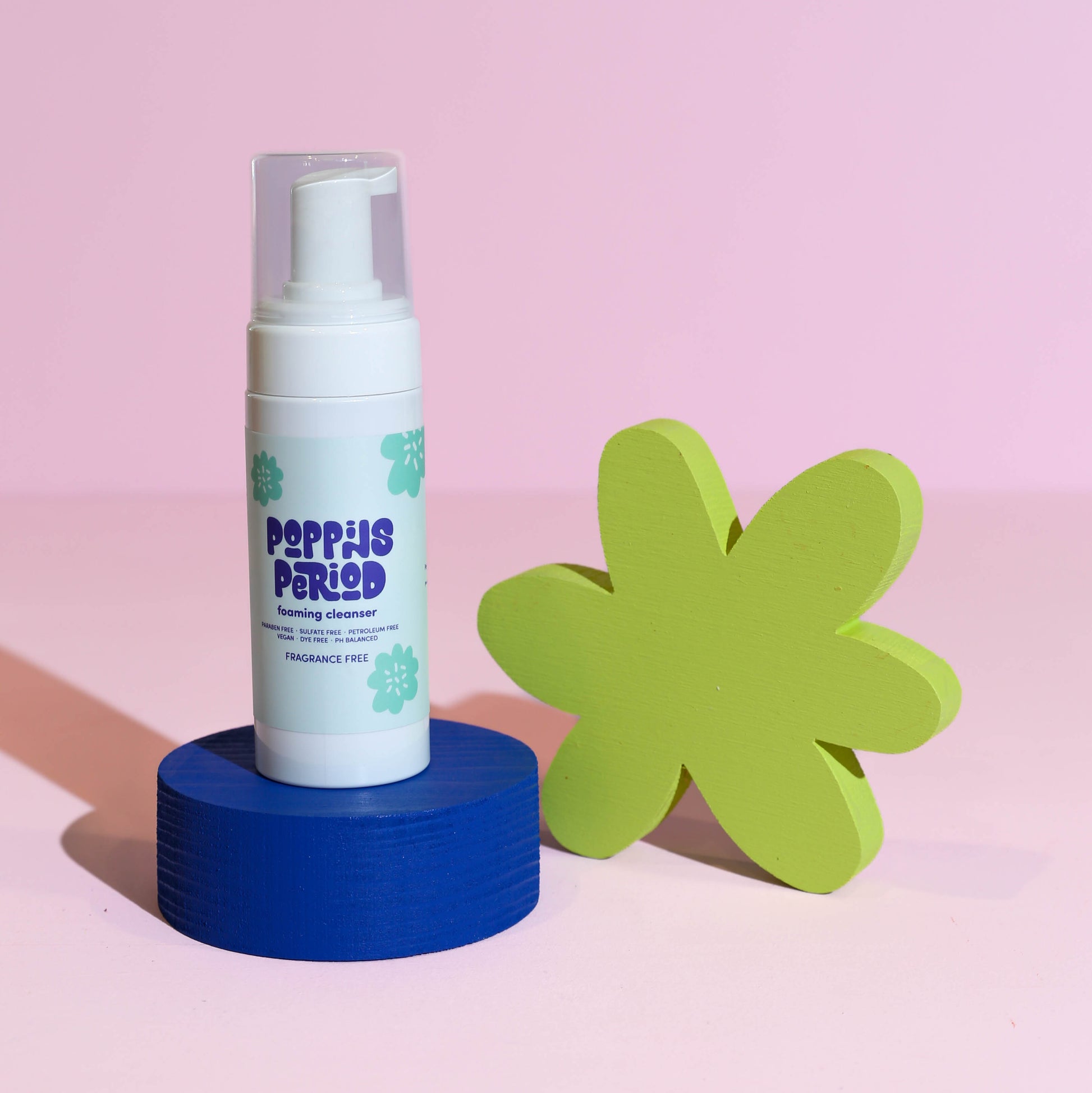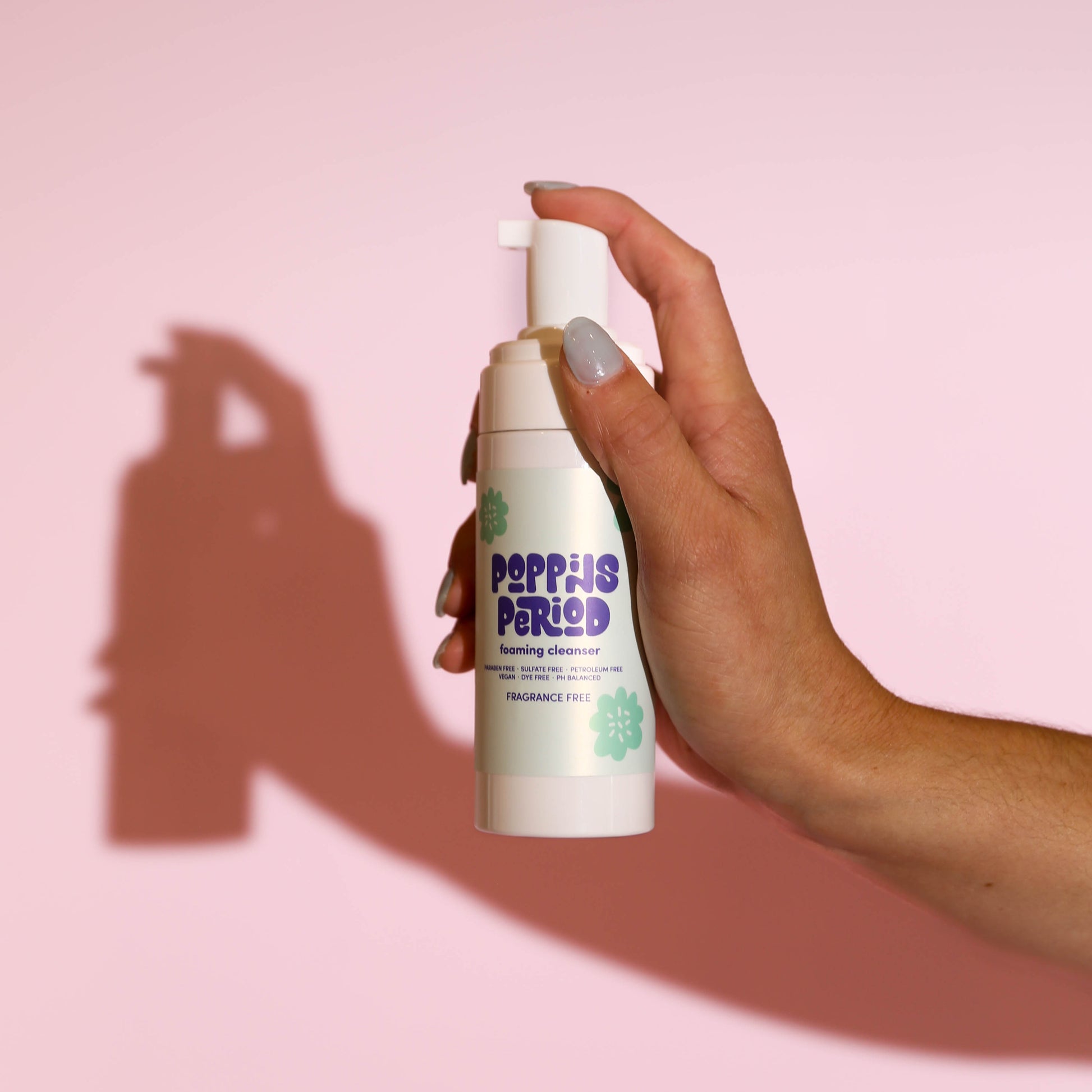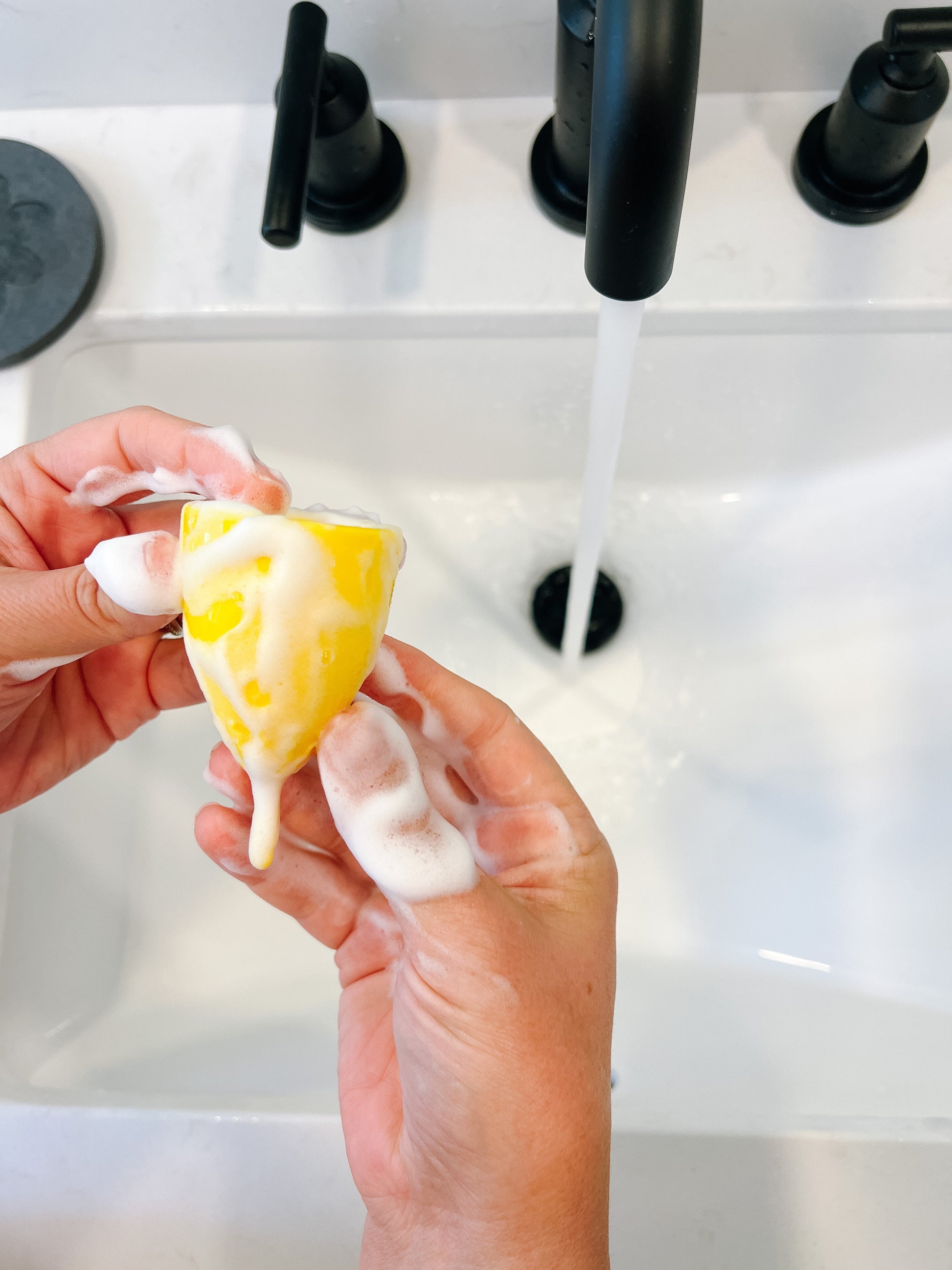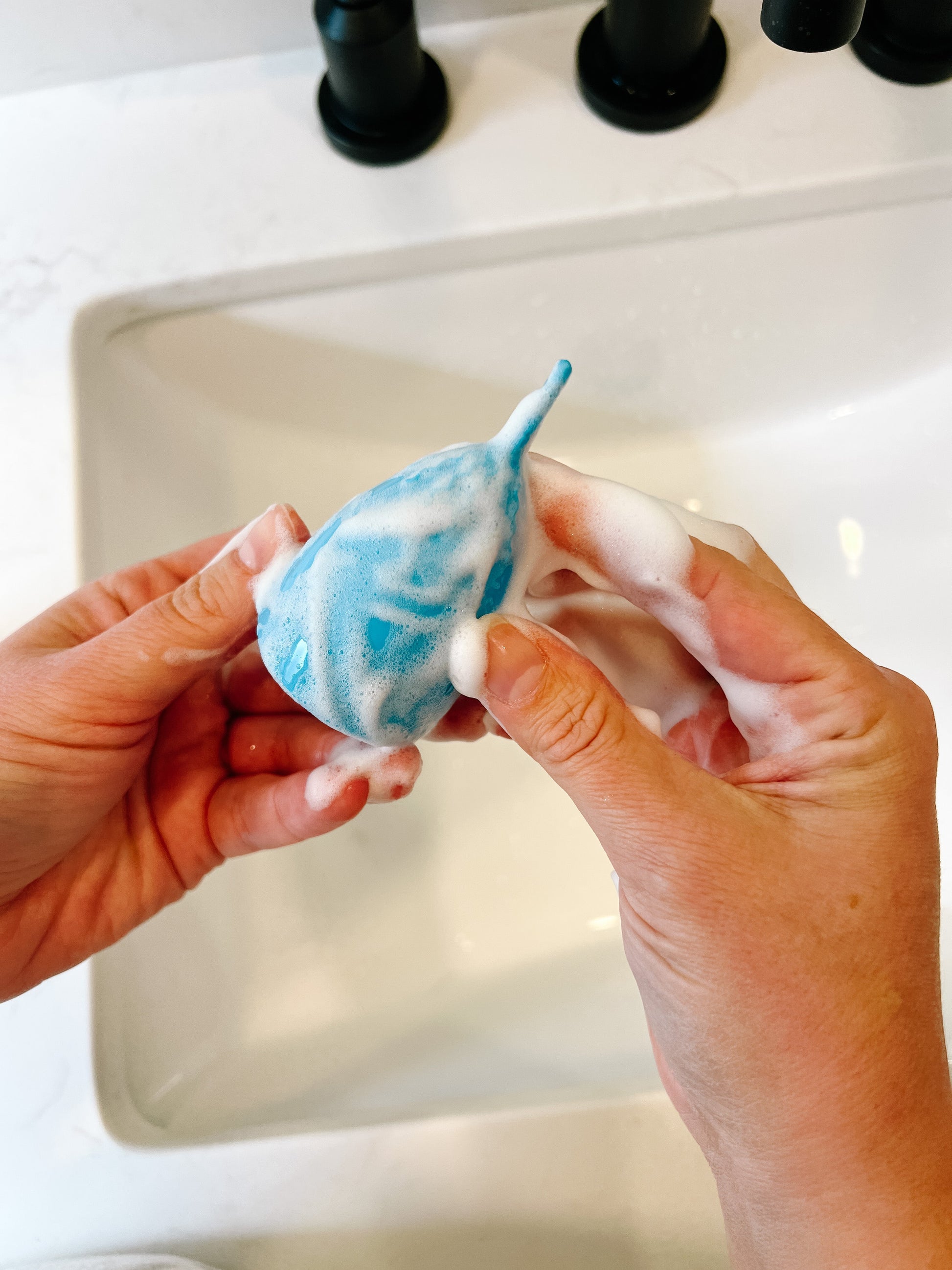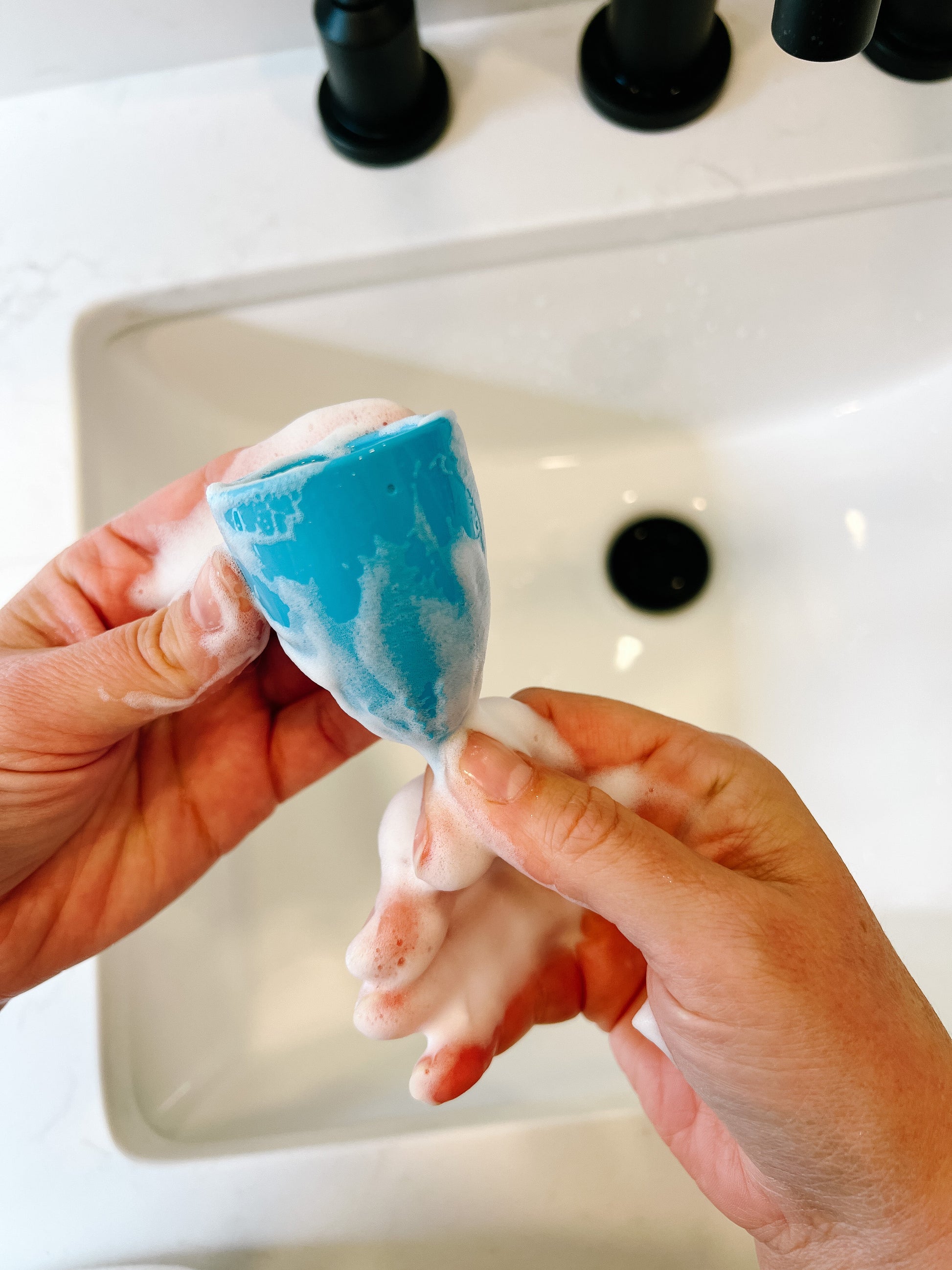 Silicone Safe Foaming Cleanser
Sale price
$18.00
Regular price
$18.00
FOAMING CLEANSER
INGREDIENTS
IS SOAP MANDATORY?
Keeping your cup clean means keeping your vagina safe.  Poor cup hygiene can leave behind bacteria and odor. This could potentially lead to irritation. Poor cup hygiene can also shorten the life of your menstrual cup.
We recommend giving your cup a thorough cleaning with a silicone safe cleanser once per day during your period/active use. This helps to remove surface bacteria and break up gunk to keeps things extra fresh. Our foaming cleanser was developed specifically for silicone, so it won't break down the silicone, and rinses completely clean. It's a simple, safe, effective formula that smells SO good. Sensitive to smells? We got you, select our Fragrance-Free option!
How to use:
Give your cup a quick rinse
Add a pump of Poppins Period Foaming Cleanser
Thoroughly lather up your cup
Pay attention to the holes at the top of the cup (Pro tip! Fill your cup with water, cover the top with your hand, hold low in the sink and squeeze gently to clean out those holes
Rinse thoroughly clean
All set! Ready to re-insert!
Paraben Free | Sulfate Free | Mineral Oil Free | Petrolatum Free | Silicone Free | Vegan
Main Ingredients
Water
Sodium Laurylglocoside Hydroxypropylsulfonate. This mouthful of a word is a natural alternative to sulfates. It's sugar based, biodegradable and helps cleanse gently.
Cocamidropropyl Betain is coconut derived surfactant that helps thicken the cleanser into a foam that's easy to spread over your menstrual cup or disc.
1% or less:
Benzyl Alcohol is naturally occurring. It's a solvent and preservative that lengthens the shelf life of your wash. In a product that gets completely rinsed off, like our foaming cleanser, it's safe and body friendly. This isn't an ingredient you'd want in your creams, as it could be irritating to leave on sensitive skin.
Potassium Sorbate is a naturally occurring antimicrobial compound.
Propanediol is sustainably extracted from corn sugar and helps improve the shelf life of the wash.
Citric Acid helps with pH balance.
Sorbitan Oleate Decyl Glucoside Crosspolymer is a safe emulsifier and cleanser.
Parfum (not added to Fragrance-Free) is light citrus, foliage blend created with essential oils.
Simple answer, nope! It's not! (Just being honest!) But keeping your cup clean is necessary to keep your vagina safe! Using a foaming cleanser is more thorough at removing surface bacteria and breaking up gunk around inside edges and in the small holes of cups and discs than rinsing with water alone.
You don't need to use the foaming cleanser everytime you empty your cup (although you certainly can, and many do!) but giving it a thorough cleaning with our Foaming Cleanser at least once every 24 hours will help keep your cup fresh and clean!
If you want to use a different soap, use a mild soap, very low to zero on fragrance, and avoid oil based soaps as they can break down the silicone and shorten the life of your menstrual cup or disc. 
Foams up to easily clean your cup Rinses clean,
leaves no residue behind
 Simple ingredients
Great for silicone menstrual cups and discs or personal toys ;)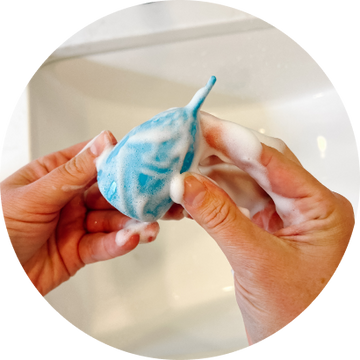 Cleans well
This cleaner works really well I like how easy it makes it to clean my cup!
I bought the scented soap and I have to say… so far I love it, the scent isn't overwhelming.
Love it
Love the foaming cleanser. I love the smell and it works great! I won't ever go without it.
Works like a charm
This wash worked well and made my cup easy to clean. Left no residue. Scent was very light.
Awesome
Foams up nicely and works very well. Would recommend if you're looking for a good cup cleaner
FAQ
What ingredients are in the foaming cleanser?
3 Main ingredients: Water, Sodium Laurylglocoside Hydroxypropylsulfonate, Cocamidropropyl Betain.
1% or less:Benzyl Alcohol, Potassium Sorbate,Propanediol, citric acid, sorbitan oleate decylglucoside crosspolymer
See product page for more information on individual ingredients.
Is the foaming cleanser vegan?
Yes! All ingredients in our foaming cleanser are vegan. 
Is the foaming cleanser scented? What does the foaming cleanser smell like?
One of our two foaming cleanser options is scented, the other is fragrance free. Our scent was created in house. We went through a variety of scents, and combined them to create our own custom scent you won't smell anywhere else. 
So what does it smell like? It has top notes of orange and lemon, mid notes of apple, white peach and grapefruit, and base notes of green foliage. All blended perfectly for a fresh, garden citrus scent.
Is the foaming cleanser fragrance free?
One of our two foaming cleanser options is fragrance free,the other is scented. This option still has a smell, which are the clean ingredient, but not an added scent. To make a "scent free" you actually have to add more chemicals, and we want to keep our cleanser as clean as possible, so we passed on those. 
Is the foaming cleanser safe for "personal toys" like vibrators?
Yes! Our cleanser is good for all silicone products including toys. 
Can foaming cleanser cause irritation?
This would be quite rare, as we use pretty mild ingredients. But if you have any irritation, stop using cleanser immediately. If irritation continues, see a medical professional. 
Is the foaming cleanser necessary?
The foaming cleanser itself is not mandatory, however keeping your cup clean is important. The cleanser is one of the best ways to keep your cup clean and safe for use! We recommend using it at least once every 24 hours during your period to keep your cup fresh and clean!
Can I use the foaming cleanser as a feminine wash?
First off, we don't actually believe in feminine washes, there we said it. Most gynecologists do not recommend using soaps on your vulva and recommend water and your hands to clean yourself. The foaming cleanser has safe ingredients that are safe for using on your body, you can use it to wash your hands along with your cup like us! 
Does the foaming cleanser have parabens? Sulfates? Mineral oils? Petroleum? Silicone?
Our cleanser is paraben free, sulfate free, mineral oil free, petroleum free, and silicone free. Making it not only safe for your menstrual cup, but for you too.